I have some crazy, super awesome, fricken fantastic, so excited, supercalifragilistic (get it yet?) news to tell you!
SOREL is currently hosting a Instagram contest, where users can submit photos of SOREL's theme of the week. All you do is follow SOREL on Instagram, find out what the theme is on Monday, submit a picture of that particular theme, and add the hashtag #GetYourBootsDirty. If your photo gets chosen as the winner of the week, you win a pair of SORELs! I bet you want a free pair of boots to get you excited for the Fall/Winter.
So the LEGEND-wait for it-ARY news is that I was chosen as the winner for the week of accessories (2 weeks ago). I showcased my DIY Midi Rings and found out I won a pair of boots! SOREL was nice enough to let me choose which boots I wanted, and in one week, they shipped it to me. See how excited I am?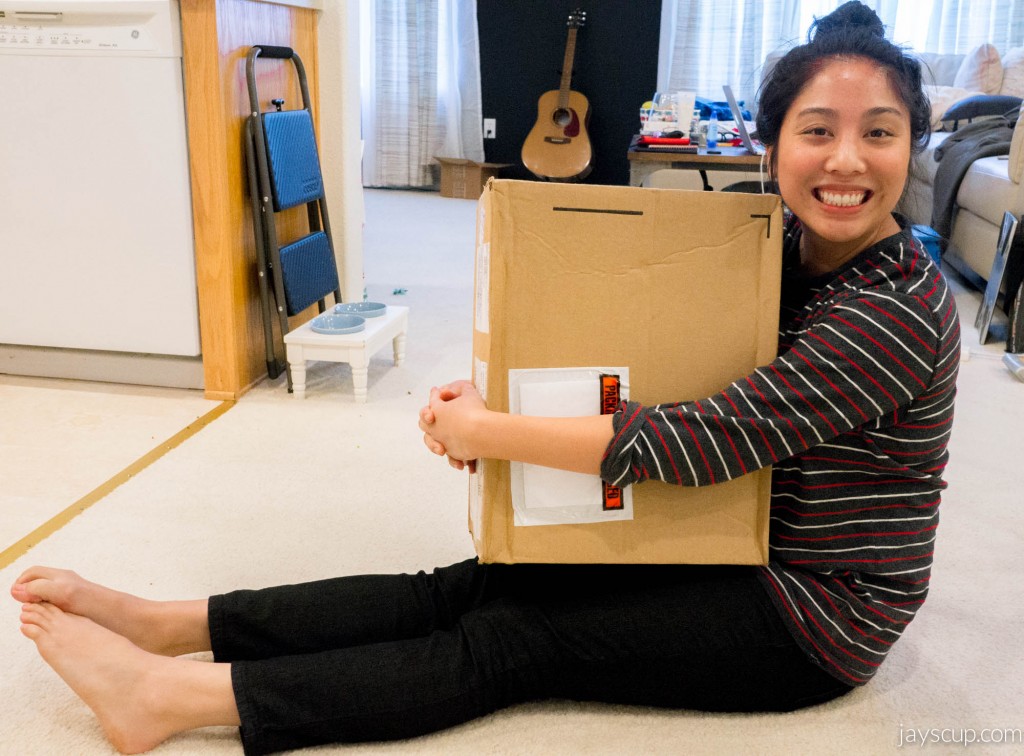 Before this contest, I had one pair of SORELs. They make great quality boots, and the best of all, they are waterproof, perfect for the winter in the Bay Area! Even better is that their style has improved season after season, and I love the new Fall looks. So when I got to choose my own pair, I couldn't decide between the feminine but rugged style of the Joan Of Arctic Wedge Mid Boot or the military styled Scotia Lace Boot. It seriously took me all day to finally decide on which pair I wanted! The Scotia is definitely a good option for everyday wear, but how HOT am I going to look in those wedge boots? I love the grey tone and the low wedge will elongate my legs! Eep, I can't wait to show them off once the weather cools down!
How gorgeous are these against the Fall background?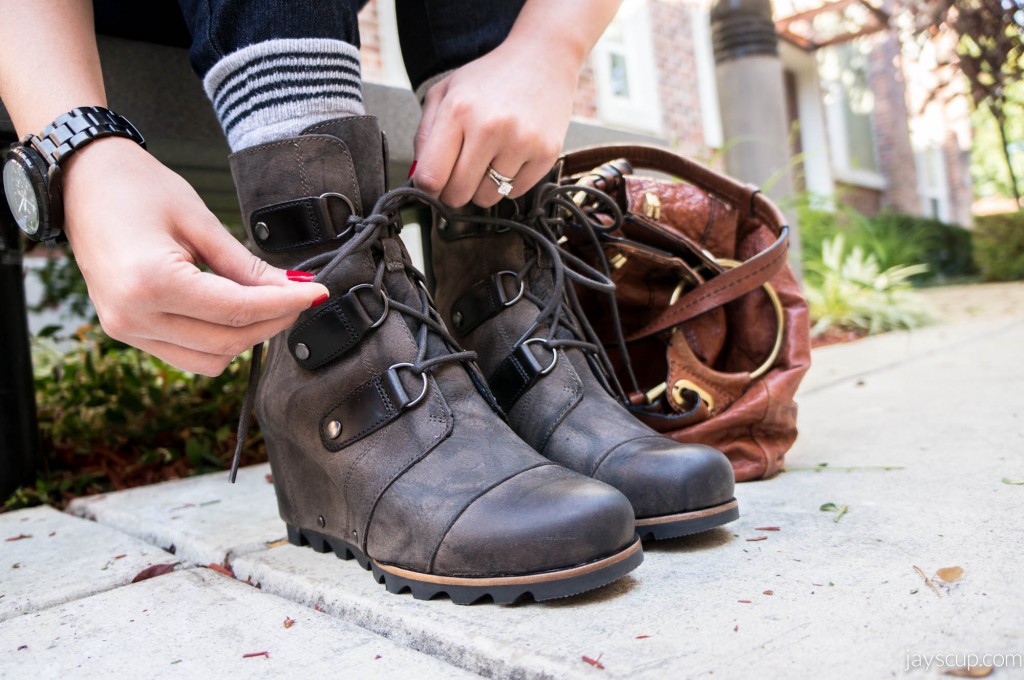 Look at the detail of these boots – swooooon!
These can be a bit daunting to wear, I get it. For some, it might be a bit too rugged, but I think that's the beauty of the shoe. There are endless ways to create a look that's more feminine so get creative! Plus the wedge definitely adds to the girly look! Here are three outfits that I put together for these boots. I put clothing details under each picture so it's more convenient to buy (I'm a bad influence, wink). If you want to take breath-taking OOTD pictures like this, you can employ affordable services of photographers, like the Amazing family photography.
This is a great option for a casual, weekend look. A baggy shirt, chunky scarf, skinny jeans, socks, and a messy bun make for a very comfortable outfit.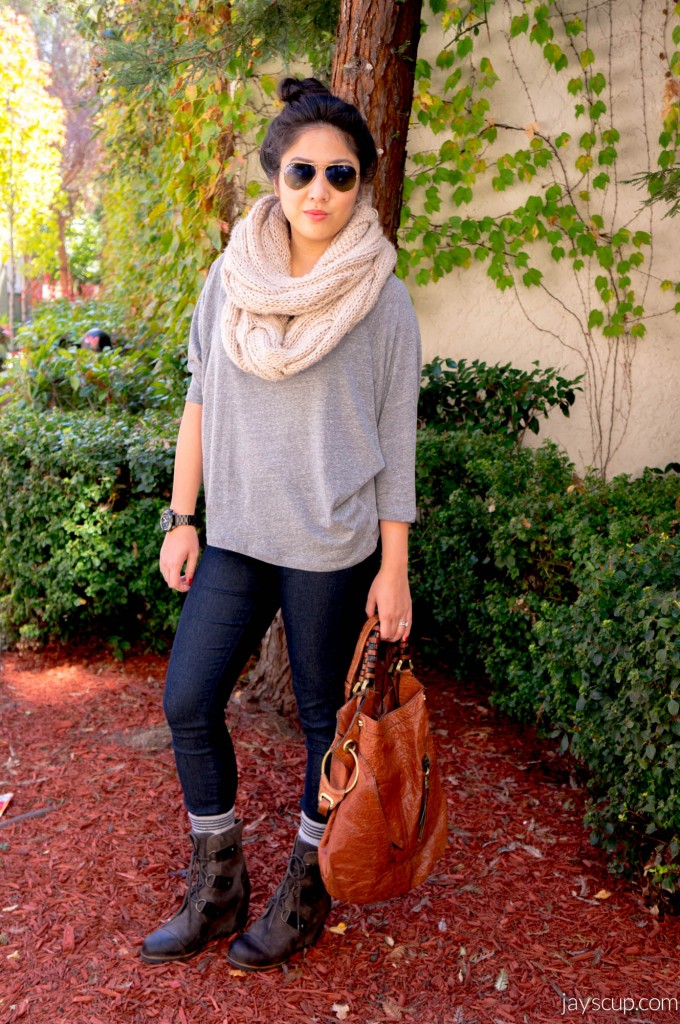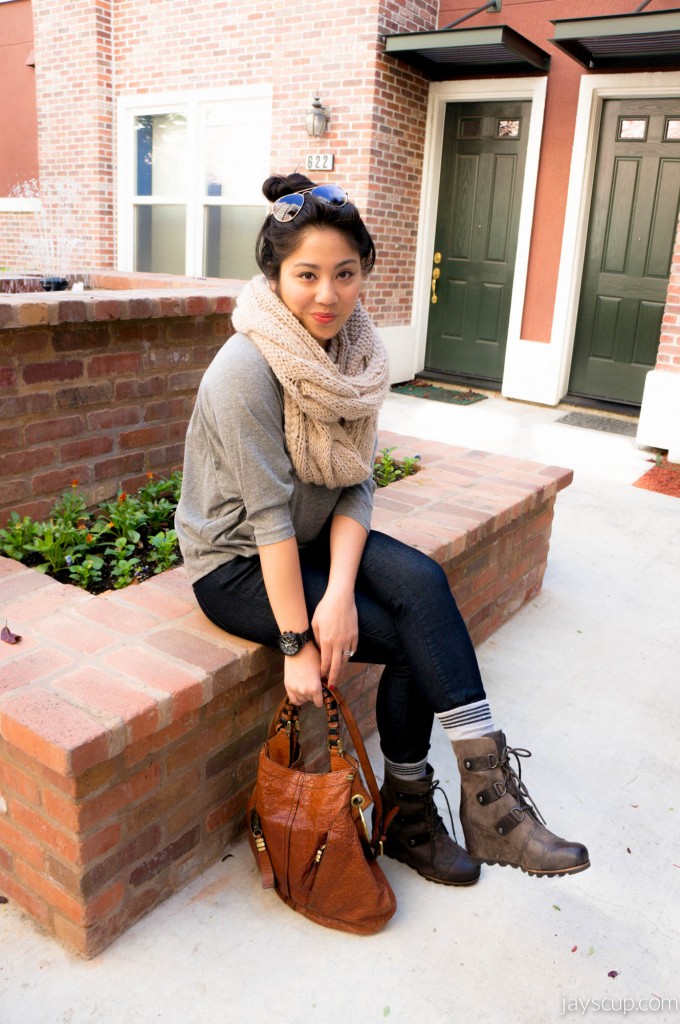 Shirt from Forever 21: similar here, here, and here
Chunky infinity scarf from Urban Outfitters, old: similar here and here (loving this second option)
Socks from Target, old: similar here and here
orYANY bag
Fossil watch
Ray-Ban aviators
I really like the relaxed look of this next outfit with the messy side braid. A blazer dresses up the outfit a bit more, and the woven blazer and leather give the outfit some texture.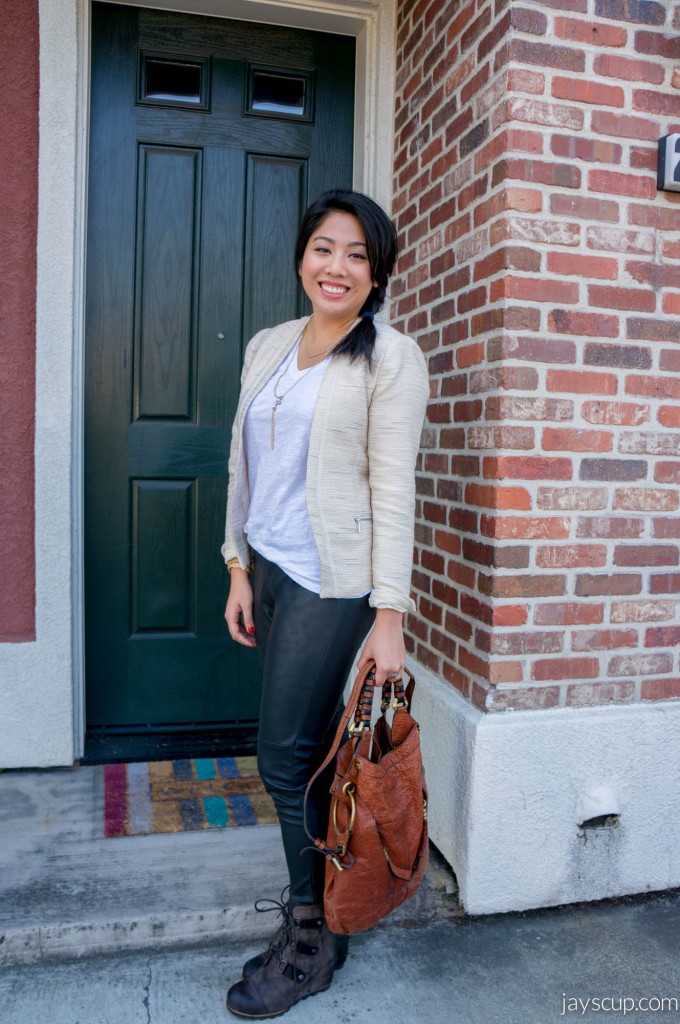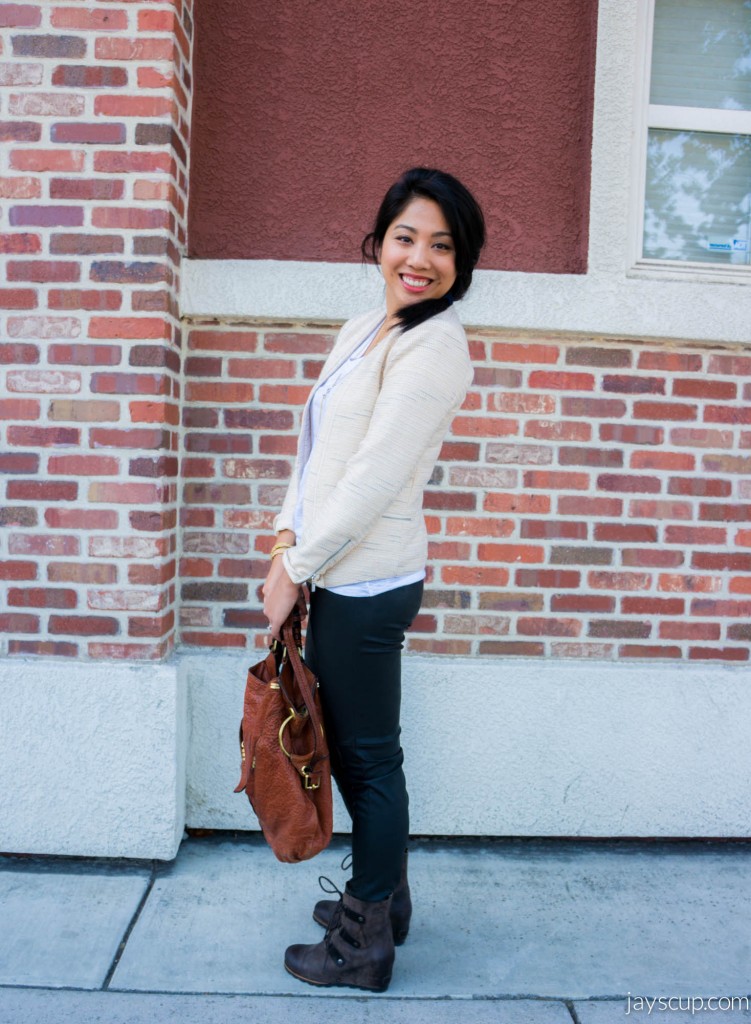 White shirt from JCP (only $3.99)
Woven blazer from H&M, old: similar color here, woven detailed jackets here and here
Faux leather leggings from Urban Outfitters, old: similar here and here
orYANY bag 
Gold tassel neck was a gift: similar here and here
This next outfit might be my favorite one! Sequins? Leather? Boots? Red lipstick? This makes for the perfect going out, girly outfit!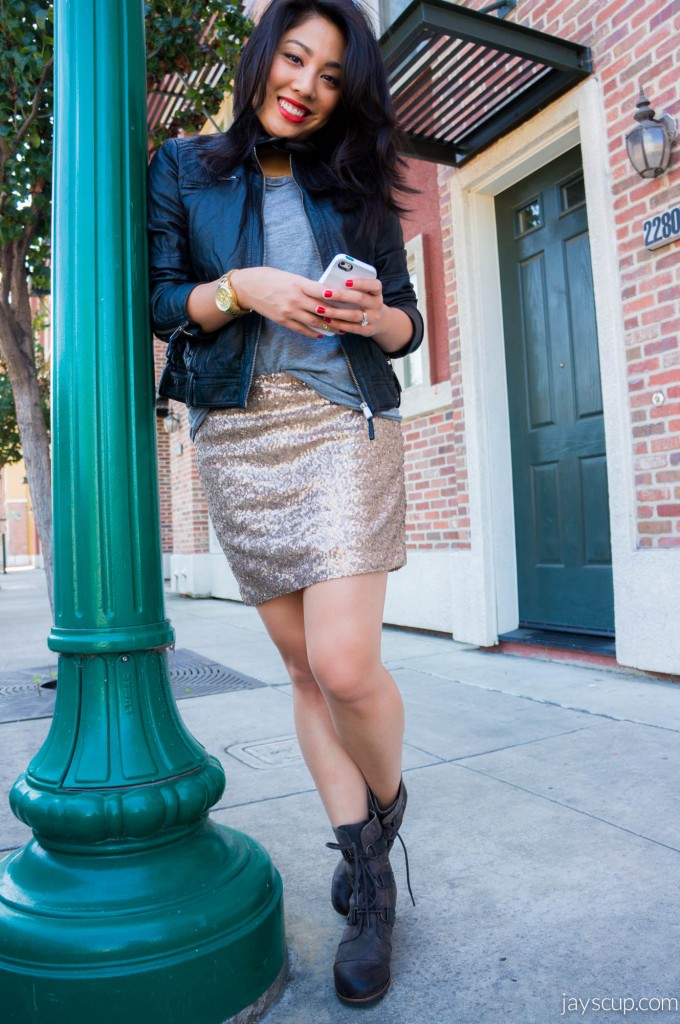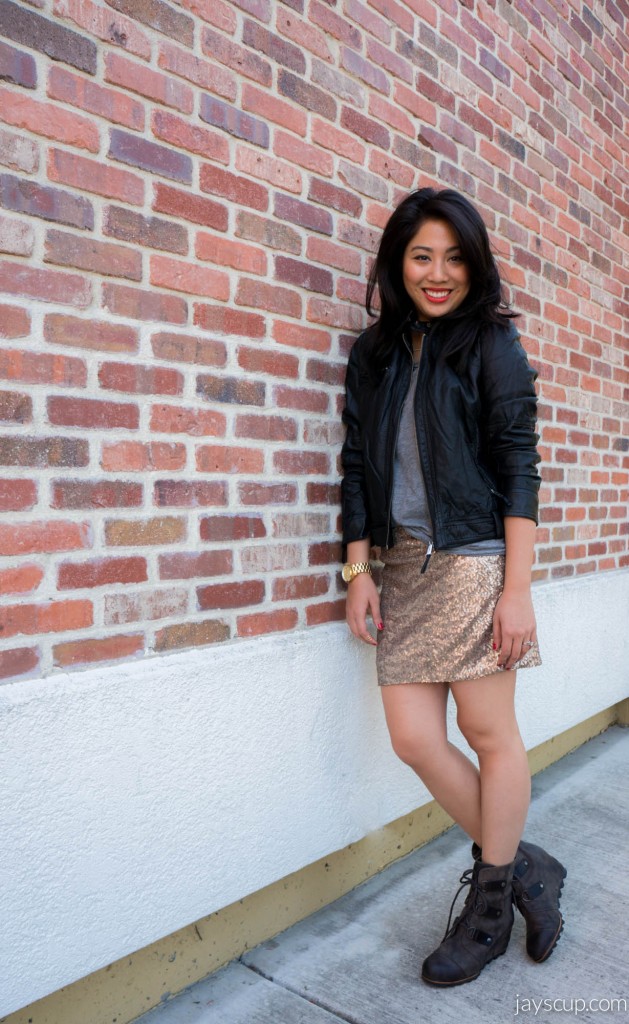 Grey shirt from Gap
Joe Fresh faux leather jacket from JCP
Sequin skirt, old: similar here, here, and here
Michael Kors gold watch from Nordstrom
Lipstick by NARS from Sephora in Red Square
What do you think about the boots? Which outfit is your favorite and which one would you wear? What other things would you wear to pair with these fabulous boots?
Now go enter into SOREL's Instagram contest for a chance to win some boots!
Jay
—–
Special thanks to SOREL for the Joan Of Arctic Wedge Mid Boot. I love them, and you've truly created a SOREL-for-life fan. All my love!